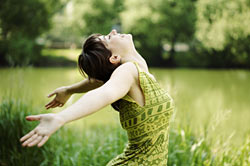 Dr. Dufford incorporates a variety of psychotherapeutic approaches and techniques into his treatment based on clinical research as well as his own personal experience in helping people change. Dr. Dufford has conducted over 35,000 individual psychotherapy sessions and hundreds of hours of group therapy during his 25 plus years as a therapist. The following are methods that Dr. Dufford uses in his treatment (click to read more about each method).
The course of individual therapy with Dr. Dufford can be brief (six to twelve weekly 45-50 minute sessions) or extend over a longer time period depending upon the complexity of issues involved. For example, the process of therapy will take longer when overcoming multiple issues, chronic conditions, the effects of a traumatic history or deep seated personality issues such as perfectionism, people pleasing, low self esteem and codependency. You can help to expedite your process with the use of Self Help Tools, participation in the Anxiety Support Group and following through with homework between sessions.
Contact Dr. Dufford for a complimentary telephone conversation to answer any further questions or to schedule an appointment.
Major Credit Cards Accepted – Insurance Billing Provided